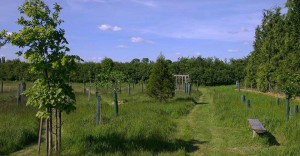 Thank you to Leedam Natural Heritage for providing this explanation of Natural Burial.
With the growing awareness of environmental issues, more and more people these days are opting for 'green' or 'environmentally friendly' funerals.
A green burial is all about keeping things as simple, natural and beautiful as possible, returning to nature in a way that will not harm the environment, but will actually preserve the landscape and enhance opportunities for wildlife. There are currently around 200 natural burial sites across the UK ranging from those with wide open vistas to woodland glades.
A green funeral at a natural burial ground can be a gentler, less stressful and more rewarding experience. We receive very good reports and comments after funerals at our natural burial grounds which reflects well on the experience and the special setting offered by the natural burial ground.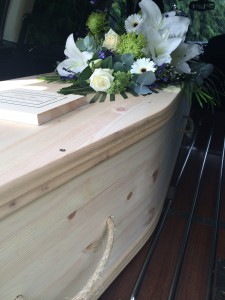 For the bereaved, natural burial grounds offer much, much more. A space to grieve, fresh air to invigorate themselves, the knowledge that they have given the person who has died the best place to rest in peace. It also relieves family of the burden of tending to a grave and offers a special place to visit in the heart of the countryside.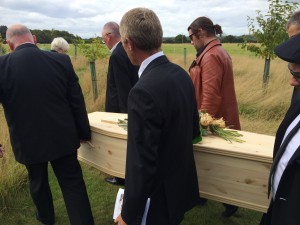 Space to be different – There is great scope to accommodate a families wishes at a natural burial ground, be it a picnic, music, bringing pets, a marquee, or displays. The beauty and lasting legacy of a natural burial can usually be combined with whatever type of arrangements your families wish to make.
Religious or not – These days, funerals are becoming more personal occasions and reflect the wishes, character and personality of the person concerned. Many people find great comfort in the tradition of a church ceremony ending with a committal at the natural burial ground; whilst others prefer something less conventional and frequently hold an open-air service at the burial ground (weather permitting).
Please see The Natural Death Centre for more information.
Or visit the websites for these local natural burial grounds:
Greys Road
Rotherfield Greys
Henley on Thames
RG9 4PN
Custodian: Andrea Chanter
tel: 01494 881586
email: achanter@waitrose.com
Henley Natural Burial Prices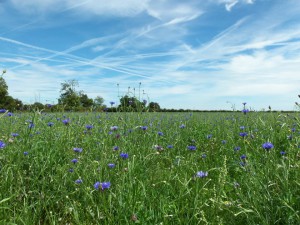 Clandon Wood Natural Burial Reserve
Epsom Road,
West Clandon,
Guildford
Surrey
GU4 7FN
tel: 01483 479614
email: info@clandonwood.com
Clandon Wood Prices 
Acorn Ridge
Redhill
Enborne
Newbury
Berkshire
RG20 0JN
tel: 01635 255441
email: web@acornridge.co.uk
Acorn Ridge Prices
South Downs Natural Burial Site
The Sustainability Centre
Droxford Road,
East Meon
Petersfield
Hampshire
GU32 1HR
Manager: Al Blake
tel: 01730 823425
email: burials@sustainability-centre.org
South Downs Natural Burials Prices
 Greenacres Woodland Burials – Chiltern
Potkiln Lane Jordans,
Beaconsfield
Buckinghamshire
HP9 2XB
Tel: 01494 872158
email: info@chilternwoodlandburials.co.uk
Chiltern Woodland Burial Ground Prices