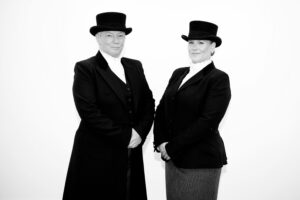 Evelyn's Funerals is a small independent business, which offers flexibility, good service, choice and transparency in all its dealings. Evelyn Temple had a dream to be a different sort of funeral director and began her enterprise in 2013 and it has gone from strength to strength.
Amanda Pink agreed to pick up the baton and to carry the work forward from 2016 and now owns the business. Amanda shares the same values, ideals and compassion and her goal is to help people to create exactly the funeral that they want and need.
Sometimes people are overwhelmed by all the choices and traditions and just want a really straightforward and simple funeral without too much fuss. Amanda now helps you to arrange this. Amanda is an experienced, licenced undertaker and trained under the British Institute of Funeral Directors.
       In 2017, Amanda's Sister, Lucie came on board, leaving her previous career in IT and Project Management to get involved with the family business. Over the last few years she has thrown herself into learning all aspects of the life of a Funeral Director, and in 2019 passed her exam to be certified in Funeral Services. She has now conducted several funerals of her own as well as looking after our Direct Cremation Services.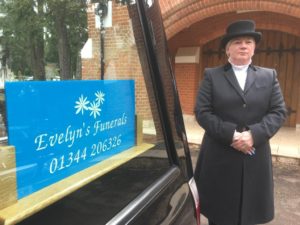 Personal Attention
Amanda and Lucie will walk every step with you, consult with you and take care of the details in a professional, calm and sensitive way.
Choice
We will make arrangements that suit your needs, your timetable and your budget.
We will listen and work with you to make the funeral happen the way you want. Our ethos is to empower families to make their own choices.
Transparency
Evelyn's Funerals will be open about how much things cost and which things are essential and which things are optional. We will always help you find alternatives if you want to compare what we offer, and if you feel you need different facilities and services, we can recommend other local funeral directors who we trust and have worked with in the past.
Amanda says:
You only get one chance to get the funeral right and we know how important it is. It's your last chance to say goodbye – to create a funeral that reflects the true life and character of the person you care about.
We'll help you to get it right. At the end of the funeral,
we want you to feel that you have done all the appropriate things,
and created the most fitting send off.