At Evelyn's Funerals we offer some simple and some non-traditional coffins.
Here are a few examples – all coffins are compliant with current crematorium regulations.
Simple wood veneer coffin  £295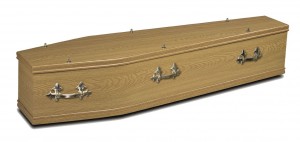 Traidcraft Seagrass from £595                                                                    English Willow from £695
Blue or pink cardboard with rope handles from £450.00
Themed designs from £525 can reflect character, careers or hobbies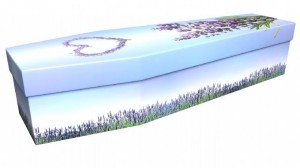 Bamboo Coffin from £595.00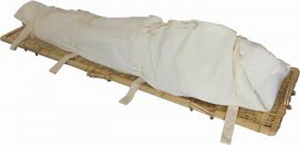 For a natural burial in the earth, it is possible to choose a Felt Shroud, which is not suitable for Cremation.
from £885 plus delivery
Respect EveryBody Shroud 
This comes with an integral board and carrying straps. The larger external stretcher pictured below is extra.
A Respects EveryBody Shroud is made from unbleached natural bamboo fabric
This product has passed the FFMA Test Protocol.
Approval Code: 282-000004
It can be used for cremation with the addition of an extra charger board, additional costs will apply.  Please check with your chosen Crematorium that they will allow a Shroud and Charger Board to be used.