At Evelyn's Funerals we offer some simple and some non-traditional coffins.
Here are a few examples – all coffins are compliant with current crematorium regulations.
Traditional solid pine £595 (shown without handles) and simple mdf with wood veneer and handles £295
Traidcraft Seagrass £595                                                                    English Willow £695
Blue or pink cardboard with rope handles from £395.00
Themed designs from £525 can reflect character, careers or hobbies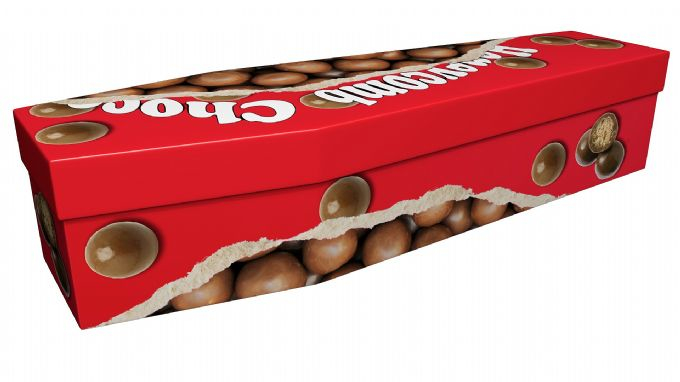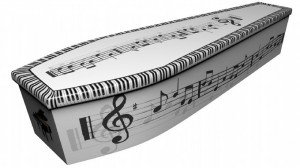 Ecoffins – World Fair Trade Organisation
Bamboo Coffins £525
Bamboo Shroud £345.00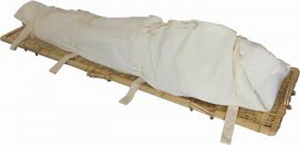 For a natural burial in the earth, it is possible to choose a shroud only.
Here is a selection of  woollen felt burial shrouds called leaf cocoons from Bellacouche that are soft and natural. The large decorated one below has an inbuilt wooden base and is designed for burial in natural burial grounds (it is not suitable for cremation) £885 plus delivery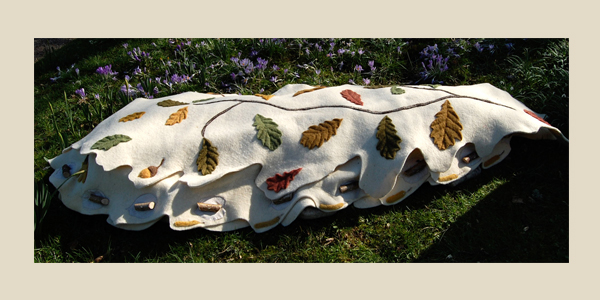 Plain soft pure woollen shrouds are suitable for cremation when used inside coffins.
The one below is £210

(it comes with an integral board and carrying straps – see it being carried below.
The larger external stretcher pictured on the right is extra.)
A Respects EveryBody Shroud is made from unbleached natural bamboo fabric
It can be used for cremation with the addition of an extra charger board.